Home | My Income Streams | Newsletter | Resources | Stuff You Should Know | Free Stuff
---
"Who is Brad Weinman...
and how can he help ME?"

People that know me know Iím an easygoing, down-to-earth, creative type of guy whoís fascinated with art, entrepreneurship, investing, and the unknown. I have no special techie skills and Iím not a computer geek.

Iím just a regular guy living with my lovely wife, Chiara and our ungrateful, yet totally spoiled cat, Milo. Chiara was born in Italy and immigrated to the US in the early '90s. She's a Certified Life Coach and enjoys empowering people to find their life purpose and deeper meaning in what they do.

Chiara and I share the same values, the same work ethic, the same goals, and the same philosophy about our spiritual growth, humanity and family. And above all, we both love to help others and have fun doing it.

Special Interests & Hobbies

There are lots of hobbies we enjoy. Chiara plays the Celtic Harp. We're also into meditating, going to concerts, personal development, cooking, traveling, fast cars, health and fitness, and painting.

We also love taking local weekend vacations and getaways.

These include cruises, long drives up the coast of California, spending a weekend in a little bed and breakfast or just getting out of town for the day to enjoy a change of scenery and some fresh air.

Traveling is one of the many "perks" of owning an internet-based home business like ours, and having both the financial freedom and the time freedom to just get up a go when we want feels great.

We enjoy an incredible sense of security, peace of mind and time-freedom because we've created multiple streams of income... that way, if any of 'em dry up, it's no big deal... we can still pay the bills... AND feed the kitty!

Our attitude towards money is that it's like a flow of energy, and a way of keeping score in the game of life... but just like the air we breathe, necessary for survival.

Money is a lubricant. It enables you to "slide" through life instead of having to just "scrape" by.

What I've found is that when you're doing what you love to do, the money seems to
take care of itself, almost effortlessly. This leads to enjoying a life of having
both money and meaning.

Humble beginnings

I know, I know, it seems like everyone you read about online has the same sob rags to riches story, right?

Well, my story's a little different. I wasn't born with a silver spoon in my mouth, and I didn't one day just stumble into a goldmine opportunity that started flooding my bank account with millions overnight. Not even close...

I come from an average, working-class family. Things werenít always easy for me. As a kid, I was shy and introverted when it came to social situations . I made friends easily, but

t

here were many moments of depression, emotional pain and tremendous frustration.

The reason I share this with you is because I used to think it was a curse, but I now see it as just part of my journey of personal growth. And even though I'm still an introvert by nature, I've been able to break free from my self-imposed prison of shyness.

Iíve made a lot of mistakes in my life, both personally and financially, but Iíve always learned something positive from each one. My Dad laid a great foundation of business ethics and principles, teaching me the value of money and that hard work and honesty were the keys to achieving whatever you desire in life.

I made my way through several career choices in my 20's... guess you could say I was "looking for my niche" in life to figure out where I fit in.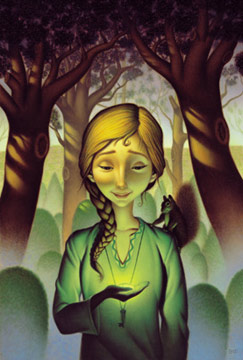 Professionally, Iím a former freelance artist and college instructor by trade, and got involved in home-based opportunities back in 1997 as a way to supplement my freelance income.
I've been full-time ever since and for more than 12 years I've researched, tested, and invested in the best home-based money-making opportunities I can find... and more importantly, the ones that actually work for ordinary people.
Like many, I've had my fair share of losing tens of thousands of dollars on scams and things that didn't work.
Needless to say, I've tried and failed at a ton of opportunities (maybe it's a genetic defect).
As an entrepreneur, I realized early on that I was certifiably un-employable and couldnít work for anyone else... so being my own boss was the only logical choice for me.
So ho w the heck does an introverted artist like me go from painting book covers for a living, to becoming a successful entrepreneur and experienced investor ?
Well, after working my ass off for the first several years as a freelance Illustrator (think Norman Rockwell), I decided to dip my toes in the water and get involved in home-based business opportunities.
To be honest, I spent the first few years running between mad and frustrated. Like most, I failed many times and made a ton of mistakes, but managed to finally make a "few" bucks along the way. I guess I was just too stubborn to quit.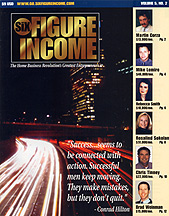 Fast forward a bit - I had my first 6-figure year in 2001.
Since that time,
my

best month
so far
has been
$117,000
( click here for some income proof examples).
In 2002, I was featured by the International Association of
Home Business Entrepreneurs (www.IAHBE.org) as one of their ďProfiles in Success.Ē You can go here to read part of the interview I did if you'd like.
Why is this stuff important?

Well, I feel it's extremely important to get to know the individual you're taking advice from as well as SEE some documented proof that what they're saying is accurate, especially if it's on the topic of making money.

With all the self-proclaimed gurus who just hopped online last week for the first time, it seems like everyone and their mother is jumping on places like Youtube with a camcorder and positioning themselves to be an "Expert" or "Authority" on making money.
It's not my style to brag or boast/ I just want you to know that I have the results to back up everything I'm sharing with you here.
Let's get down what I can do for you...
Success breeds success. Are you hanging out with successful people or are you going it alone? If you're alone, chances are you'll fail. It's almost guaranteed statistically.
Doesnít it make sense to find someone who's successful and doing what you want to be doing, and then just copy what they're doing?
What separates me from EVERY other person promoting biz opps online is that, not only do I have over 13 years of full-time marketing experience, but I'm also an expert when it comes to alternative investing and passive income generation.
In other words, I can show you how to generate weekly cash-flow AND how to take some of that income and make it grow passively without any recruiting or marketing, etc.
I offer a few select programs (below) that I've personally researched, tested, invested in and profited from. More than this, I offer personal mentoring and real world assistance to anyone who enrolls in one or more programs with me.
What are y our chances of you succeeding by working with me?
Well, you have to make your own judgment call on that one. Of course I can't guarantee your success, not only is that illegal, but it's totally impossible - I don't know what you'll do and won't do...
But I've helped a lot of people achieve success over the years and I'm pretty darn sure I can help you too. If we mutually agree to work together, I can be your mentor. A mentor can make the difference between success and failure.
ďTo get what youíve never had, you must do what youíve never done.Ē
Despite what anyone, and I mean, ANYONE would like to tell, persuade or con
you into thinking, there's no magic pill to achieving your goals... you probably already know that, right?
You see, I know what it's like to make $0 dollars a month and I also know what it's like to make $100,000 dollars a month and it wasn't always easy, but it WAS worth it.
I started exactly where you are, in fact, you're probably more than likely light years ahead of where I started.
Iím a teacher at heart, and as such, I love to see my students succeed. Itís been said that you only make a difference in the world when you share and teach what you know.
Yul Brynner (the bald guy famous for playing the King of Siam in ďThe King and IĒ) said he loved acting so much that he would pay for the privilege. Now, Iím not as crazy as he was, but I did learn from his remark that I canít stop teaching; itís just part of who I am.
"Success is not counted by how high you've climbed,
but by how many people you brought with you."
Here's what others are saying:

Dino Stylianopoulos
"Hey Brad, I just wanted to send you a much over-due "thanks" for always taking the time to help me out. For a newbie like myself, that means a lot. I'm feeling pretty fortunate to have found you during my internet search. I've already learned so much from you - and your training site is dynamite! With you as my mentor, you've really made it an enriching experience." Cheers, Carmelita
---
"Brad is wonderfully supportive and is there whenever I have needed assistance. His generous spirit is what attracted me to him and helped with my decision to partner with him. Another contributing factor was that he has a great system in place that I easily plugged into. Since that time he has proven himself to be a magnificent person and I true delight to work with." Gloria Williams - GA
---
"I have talked with Brad many times and he is always friendly, easily accessible, and he has helped me whenever I need it! The thing I like most is that he never hypes anything. He is down-to-earth with big goals and dreams just like me." Scott Clayson - TX
Congratulations for reading this far...
You're more serious about your success than most people
and I respect you for that . The people who prefer to "get rich quick" have usually left by now, since I wasn't quick enough!
With so many Ďwork at homeí opportunities out there, how do you find the right one?
That's the $64,000 question, right?
Well, for several years I spent almost every extra dollar that I had on money making programs. Most of them didn't work. Only a few actually have had the potential to make what I call significant income.
One advantage you have by being exposed to this information is that I've made a lot of expensive mistakes that you don't have to. I've paved the way so you can get right into evaluating a handful of proven, time-tested opportunities that I'm personally generating income from.
Click here to check out my income streams
Call me anytime, Iíd be happy to talk with you and answer any of your questions.
No matter whether it's about how to generate weekly cash-flow working from home, or how to get high-yielding returns from your investments, or how to get better results in a current business you might be in, Iíd be happy to help in any way that I can.
Whether we do business together or not, I hope you find all the success that you desire.
Sincerely,
Brad Weinman
Office: 818-342-9984 Monday - Thursday 10AM - 7PM PDT
Email: cashflowexpert @ mindspring.com
---
Home | My Income Streams | Newsletter | Resources | Stuff You Should Know | Free Stuff